Sporting Fools
Sporting Fools
Sporting Fools
The frequent and occasional humorous musings behind two of the World's greatest underappreciated sports minds.
Friday, July 22, 2005
Fantasy RBs

I think running back is the most important position on the fantasy team. Because the league is very thin in quality fantasy backs, it's important to get your two starters in the first 4-5 rounds.

Last year I had Tomlinson and Curtis Martin as my backs and they carried me while Matt Hasselbeck struggled for me at QB. My RB chart was deep enough to where I was able to trade my third running back (Warrick Dunn) for a better QB early in the season. Having more than two quality backs can really open up a chance for roster moves.

Top 5

1) LaDainian Tomlinson: LT gives you yards on the ground and in the air and he's extremely consistent. Week in and week out he was a guaranteed 14-18 points in the bank. And don't forget his average of 15 touchdowns a year.

2) Priest Holmes: He's not as explosive as he was in 2002 but the guy is still a scoring machine. Holmes scored 14 TDs last year and missed almost half the season. If he's healthy it's another 1,400 yards and 22 touchdowns.

3) Edgerrin James: Going into a walk year I expect James to match or surpass his 1,548-yard total from last season. My only concern is the nine touchdowns, but I put some of that to Manning because obsessed with the record.

4) Jamal Lewis: Nothing like a trip through jail to motivate a guy. I expect Lewis to lead the league in rushing this year, he won't reach his 2003 total of 2,066, but he'll get over 1,800 and 12 touchdowns. Jail can do wonders for a person's pysche.

5) Corey Dillon: He got 30% of the Patriots offensive yards last season. He might come out the gate a little slow but be patient because as the weather cools off he will grind out several 100-yard games.


Overrated

1) Ahman Green: Still a strong RB but not an elite one. Definitely a No. 2 running back at this stage. He's got some problems fumbling the ball and more importantly, he has to play second fiddle when Brett Favre decides to go at it alone.

2) Clinton Portis: Lots of carries, good amount of yardages, few touchdowns. Portis isn't the type of back that gets strong with more carries so after his 20th carry he was considerably weakened late in games.

3) Fred Taylor: The fact that it's taken him over five months to recover from surgery that was designed for six weeks of rest lets me know that Taylor is a wasted pick until the late rounds.


Underrated:

1) Tiki Barber: He fills in the boxscore whether the Giants win or lose. He's averaging over 1,300 yards and 10 touchdowns for the last four seasons too. He often falls in fantasy drafts so this could be a 4th round steal.

2) Deuce McAllister: With the Saints promising to simplify their attack and run the ball more, McAllister should easily get close to 1,400 yards and double-digit touchdowns.

3) Warrick Dunn: Despite attempts to replace him, he still remains a great compliment to Michael Vick and a reliable back. He should get around 300 touches again this season and that means another 1,100+ yard season.


Ones to Watch:

1) Curitis Martin: After leading the league in rushing last year, Martin will have to shoulder the offensive load again. A mark of consitency.

2) DeShaun Foster/Stephen Davis: Give the Panthers the first month to figure out who will be the starter and go with him. Whoever runs will get a lot of carries and a lot of yards.

3) Rudi Johnson: Had a breakout season in 2004 with 1,400+ yards and 12 touchdowns. He will be heavily relied on again as the Bengals try to make the playofs.

4) Shaun Alexander: I worry about Mr. 1,696 if he's thinking more about his contract and less about the field. I can't draft a guy who has such an obvious distraction. Still his numbers in 2004 should not be ignored. Just monitor the first few weeks of camp.

5) LaMont Jordan: Finally Jordan can go at it alone. He has shown signs of power, speed and durability that should give him a nice chance to showcase his talents.
Turiaf Needs Heart Surgery...
A major shocker from a guy that I thought was a steal in the second round (so did the Lakers, who quickly signed him to a two-year guaranteed contract).

Turiaf, who grew up on the Caribbean island of Martinique and played high school basketball in Paris, had tests done several years ago in France that showed an abnormality of the heart, but was cleared to play. Tests done last month at the NBA's pre-draft camp in Chicago also presented an abnormality, but he was cleared there as well.

"Naturally, we wish that they would have seen it the way our doctors found it," Laker spokesman John Black said Thursday. "It would have made a difference, but we don't want to point fingers. We feel fortunate that it was found when it was. It probably saved the kid's life."

A best-case scenario, if things go great, is he could come back as early as a year from now. Doctors think that if he's ever able to play basketball again, it would be a bonus."


It's really amazing how a guy who seems to be in such supreme physical condition needs this sort of major surgery. Nonetheless I was a big fan of Turiaf at Gonzaga and I have high hopes that he will contribute to the Lakers sooner than later.


Turiaf Has Faulty Heart [L.A. Times]
Wednesday, July 20, 2005
Bruschi Will Sit Out 2005

As if the losses of both coordinators and Richard Seymour's holdout isn't enough, the Patriots lose their defensive leader.

From the AP Wire:

BOSTON (AP) _ New England linebacker Tedy Bruschi will sit out this season because of a stroke he suffered 10 days after helping the Patriots win their third Super Bowl in four years.

"Tedy ... has declared his intentions to forgo the 2005 campaign,'' Patriots spokesman Stacey James said in a statement. "The Bruschi family wanted to express their heartfelt appreciation for the tremendous outpouring of support they have received from fans throughout New England and others around the country.''

Bruschi, 32, suffered a mild stroke on Feb. 16, three days after playing in the Pro Bowl and 10 days after helping New England beat the Philadelphia Eagles 24-21 in the Super Bowl. James said Bruschi has made daily progress in his rehabilitation.
Fantasy QBs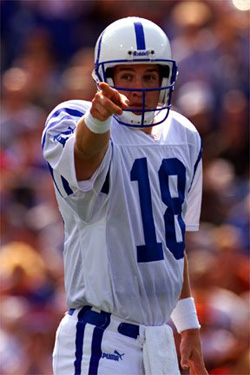 Believe it or not we're only about a month away from fantasy football drafts so I'm going to take a whirl starting with the quarterbacks.

Top 5

1) Peyton Manning: Kind of a no brainer here. Manning will probably go no lower than third in any draft and first in most. Manning's touchdown total last season (49) is about 20 over his career average, but there's no reason why he can't throw for around 35 scores in 2003.

2) Daunte Culpepper: It's kind of a toss-up between Culpepper and Donovan McNabb here, most would even prefer McNabb since Culpepper's top target, Randy Moss, was traded away. Without Moss I don't expect Culpepper to match his 39 touchdowns of 2004 but he will be used at the goalline and he will run for more than the two scores he had last year.

3) Donovan McNabb: Believe it or not but Terrell Owens is very important to McNabb's production. His 31 touchdowns last year were almost as many as his totals in 2002 and 2003 combined. With T.O. in the fold, 30 touchdowns is again a possibility. But remember he's got the Madden jinx working against him.

4) Drew Brees: A bit of a surprise at four because many people think Brees' 2004 season was an abomination. Not me and it's because of one reason -- Antonio Gates. For the first time Brees had a sure-handed safety valve who was money inside the red zone. I'm willing to take a second chances on Brees.

5) Brett Farve: Barely over Jake Delhomme, although I can safely say that if Favre and Javon Walker keep sniping at each other it might be a long season. Otherwise I'll take the 4,000 yards and 30 touchdowns.


Underrated

Jake Delhomme: Almost 4,000 yards and 29 touchdowns for a Panthers team ravaged by injuries in 2004.

David Carr: Should continue to get better with an improved offensive line.

Chad Pennington: With a better receiving corps and a healthy shoulder, he should revert back to 2002 form (22 TDs, six interceptions)


Overrated

Jake Plummer: High yardage, high interception total. Fine QB for larger leagues, but anything 10 teams and under and I'd only use as a backup.

Ben Roethlisberger: He's going to go higher than he should in most drafts because of the Steelers' success last year. But he was very mediocre in his last ten games of 2004 and even worse against the league's better defenses.

Michael Vick: I actually like Mr. Mexico as a QB, he gets the job done in a non-traditional form. That being said he's going to go higher than he should, too many flaws in his passing.


Three to Watch

Kerry Collins: The receiving corps in Oakland is beyond stacked. Ron Curry is a No. 2 receiver anywhere in the league but barely cracks the second team in Oakland. I like Collins for over 30 touchdowns.

Tom Brady: Oddly enough Brady is a better NFL QB than a fantasy league QB. Brady usually sticks around his 26-touchdown, 13-INT average, which is good enough in a larger league.

Marc Bulger: I don't believe he'll ever post the numbers that Kurt Warner did in the office. But he will throw for 23-24 touchdowns and almost 4,000 yards.
Tuesday, July 19, 2005
Blogpoll Discussion #3...
Question taken right from Straight Banging. Sorry I'm late but I was on assignment :).

1) Which unheralded player on your team will be the hardest to replace? Which seemingly inconsequential player could make the biggest impact? Well it's tough to find unheradled players at FSU, just ones who haven't met their full potential. I guess I'll say that although he left last season, Torrance Washington remains the toughest to replace. He was supposed to be the fullback in FSU's new style of offense. The guy who could run, catch and was completely unstoppable at the goal line. Unfortunately a bad injury forced him to end his career too soon.

This year the "inconsequential" player will be offensive linemen Jacky Claude. I think he's the next great lineman at FSU, however he's currently second on the depth chart. That will change very quickly.


2) Which regular-season game that won't feature your team would you pay the most money to see this season? Why? Probably the early Ohio St.-Texas tilt and its because it's such a rarity when two well-established programs meet in an early-season game where there is so much to lose. I would also love to see two of the most exciting players in the nation -- Vince Young and Ted Ginn Jr.

Bonus: Which rivalry game would you most like to attend? Michigan-Michigan St., Odd choice I know but it's almost always a very good game.


3) If your team were a rapper, who would it be and why? Hmmm I would definitely say FSU is a little like LL Cool J. Terrific throughout the 80s and 90s, but he's tapered off a bit in the 21st century. However, in spite of that he has the capability to record a hot song and move a lot of albums. FSU still has the capability and talent to contend for the upper echelon, but it's no longer a guarantee they will get there.

More college football soon. I promise.
Saturday Night Fights...

Well I figured since I went to Vegas for a reason I'd at least give you all an update from the trip and share a few pieces I wrote.

Overall the fight, as good as it was, did not match the incredible buzz and hype that I experienced Friday and Saturday. I believe that only the Super Bowl is a better experience that a superfight. The type of rare fight when champion and challenger are evenly matched in the eyes of the media and fans.

The entrances alone were so exciting. Jermain Taylor, the former Olympian, the humble family man, the future star, coming in to "In the Air Tonight". Bernard Hopkins, the great champion, the ageless wonder, the reformed criminal, one of the truly interesting people in sports with his traditional morbid entrance.



Michael Buffer's entrance was completely on point. Taylor charged like a bull and Hopkins crossed him arms in the 'X'.

You could really feel the energy. The crowd, which was 65% Taylor, couldn't sit down for a second because this was one of those rare times that we weren't sure what was going to happen.

As it was Hopkins went to his traditional, patient gameplan. He started VERY slow and allowed Taylor to gain a large lead on two of the scorecards for the first six rounds.



But the 9-12 rounds were all about B-Hop. The look in his eyes as he sized up Taylor and went in for the kill was amazing. I honestly thought Taylor would fall in the 10th and 11th rounds but he held on and in my opinion he won the fight 115-114.

It's really hard for me to describe how exciting this whole event was. Attending the press conferences and weigh-ins gave me a great idea about both of these fighters. I have a great respect for Taylor, he's going to be a very popular kid in boxing. He's got a great story, he's been helping his mom raise his three younger sisters since he was 8. He's not a big talker, he's actually got a bit of a stuttering problem, so he has always talked with his fists. Taylor lived in the gym just to avoid the gang life in Little Rock, Arkansas.

I have a great respect for Hopkins too. He didn't avoid the street life, he got busted and spent a year in prison. But he reformed himself, he managed his own career and refused to get caught up in the promotional game of boxing. At 40 he runs his ship, he makes a ton of money and he's a star. As he says, you'd be a fool not to respect him.

This wasn't a fight Hopkins had to take, he could've retired, he could've moved up for more money, he could've done several things. But he chose to fight a guy 14 years younger who was bigger, stronger and faster. And in the late rounds, he took the kid to school. There's no doubt about that. Taylor was cut by a headbutt in the fifth and it obviously bothered him late as the blood began to trickle past his eye and left Hopkins a target.

After the fight Taylor was humbled, he said he learned so much, he was disappointed that he couldn't fight like he wanted too, but he'll be ready for the rematch. Hopkins was defiant as ever, refusing to acknowledge the fact that he lost and his streak of 20 title defenses has come to an end.

As for sightings. Sorry Kevin, I didn't see Alba anywhere but I did see Hulk Hogan at the Palms on Thursday, he's still a big MF. ESPN's Shelley Smith is a extremely nice and she even promised me more Laker updates this year. I was chatting it up with Al Bernstein in between rounds of the fight. He was actually sitting directly behind me. The general consensus was that it was a close fight that could've went either way with the exception of those who were just in awe of Hopkins and gave him every round.


Hopkins: The Ring of Truth [The Ledger]
Taylor Earns Split Decision Victory [The Ledger]
Official Fight Scorecards [Fight News]
Monday, July 18, 2005
Bye Bye Brown

According to ESPN.com, Larry Brown is out in Detroit as the coach and team agreed on terms to buyout the remaining years and money on his contract.

Brown, who is healthy enough to continue coaching, will now be heavily pursued by the Knicks while Flip Saunders is the lead to takeover in Detroit.

Also a Sporting Fools operative tells me that Florida Marlins manager Jack McKeon might be out of a job in Miami in the next 24 hours. McKeon has been around a .500 manager since leading the Marlins to a World Series victory in 2003.


Brown, Pistons Part Ways [ESPN.com]