Sporting Fools
Sporting Fools
Sporting Fools
The frequent and occasional humorous musings behind two of the World's greatest underappreciated sports minds.
Friday, March 11, 2005
Quick Hitters..
-- The Colts Are Going to Lose Their Edge: He says the offense is like the Jackson 5 (continuity and dysfunctionality) [Indy Star]. Works for me, but who's willing to be Marlon? What can the Colts get for the Edge? They should be able to get a first rounder and they could possibly sucker a team like the Cardinals into giving their their Top 10 pick for it. I do like that trade with San Francisco however, Edge for a second, a sixth and Barlow? Sounds like a winner.

-- Fear the Turtle?: Not if you're on the NCAA Selection Committee. Sweep Duke, lose to Clemson three times [Wash. Post]. Makes perfect sense. While ESPN says bubble busted, Travis Garrison begs, "it's up to the selection committee to just give us a chance, and I pray that we make it."

-- Frauds?: Boston College goes down and takes any chance of a #1 seed with them [NJ.Com]. Love the attitude of forward Craig Smith though: "But it doesn't matter to us. It really doesn't matter who we play. We just have to go out there and kill our opponent." That's the spirit Craig, kill 'em all and let god sort them out. Gotta give credit to West Virginia though, they needed two wins to get in and they got them. Now the committtee should slap them with a nice 6 seed.

-- Opponent Needed for Oakland (Mich.): Weber State couldn't hang with Montana [Sportsline] so my choice remains Delaware State for a Tuesday night showdown (as long at they win the MEAC).

-- And what about South Florida?: Well yes the Bulls continue to shock by beating Big East-bound Cincinnati ("When you get whipped like that, it's hard to think about anything else," says Huggy) by 12 in Cincinnati. [St. Pete Times] Tonight they have Memphis. Say they beat Memphis and the winner of UAB-Louisville on Saturday. They would be 16-15 with a semi-major conference title. Where do you seed them? Well I don't think you could seed them lower than 9.

-- Mike Tice = Ticket Broker: Scalping tickets as a head coach? [ESPN] Forcing players to sell to a certain broker? Do we fire Tice for:

a) Criminal Activity
b) Stupidity
c) Being a terrible head coach
d) All of the above

-- Sad News: It looks like one talent won't make it back to the No Hockey League. Peter Forsberg took six weeks to recover from a broken hand only to suffer a concussion in his first game back in the Swedish Elite League. [Denver Post] Forsberg is no stranger to concussions (hell injuries period) and his father, Kent, says his career is over, "he has had his share of concussions, so this is it,". He was one of the few bright offensive spots in the watered down NHL.

-- Sorry Courtside: But Chris Webber is playing like garbage in Philly and he's squabbling with his new coach about minutes [Philly.com]. Can't blame Jim O'Brien for not wanting to sit through 40 minutes of a 5-for-17 performance. And the fans? BOOOOOOOOOOOOOO!!!! But Webber understands ("I wanted to boo my damn self."). Here's hoping C-Webb gets it together.
Thursday, March 10, 2005
The Baseball Apology Network....
BTW, yes I know basketball is going on. I'll write something on it when I get home from work. However, I suggest reading R.D. over at Cheap Seats for a pretty comprehensive daily update. It's good stuff, definitely comparable to a notebook story you'd read in a national daily.

Baseball writers are an interesting bunch. They are very loyal to their spot, extremely loyal and unfortunately it's become a fault because often they are willing to defend baseball from ANYTHING.

Take this subpeona situation for a second. I thought this was a fairly good situation for the sport. Bring up some players, ask some questions and voila, the necessary steps will be taken to rid steroids from the sport

Sidenote: Despite how I occasionally word it, I think steroids are a problem and they are bad. I don't blame the MLB's steroid situation for what happens in high schools and colleges because, frankly, at some point people have to be responsible for the shit they put in their bodies. However I feel like all cheating in sports is bad and I group steroids with any other cheating method out there.

Anyway, I've come to realize that maybe baseball isn't so keen on this who Congressional hearing and there are a few reasons why.

The union can't run this show. The U.S. Government (whether we agree with its methods or not) isn't going to be bullied by Donald Fehr.
The players are used to the union saving their asses.
The sport wants time to see if its half-assed way of curbing steroids (the ol, four strikes and you're almost out policy) will actually work. It won't.
The players will have to tell the truth.
And therein lies the problem. Frank Thomas will go under oath and say he didn't use steroids. He's got no problem with this and has long been for the banning of steroids. [Tribune]. Curt Schilling, another outspoken advocate of banning steroids, will go under oath and testify without an issue. [Herald]
Jose Canseco, a.k.a. the Godfather of Steroids (I'll get into that another time) is also a happy member of the cause. Hell he'll describe how one shoots up properly and still gets to bang half the Spice Girls. Canseco has already proved he doesn't have any problem going in the public and bragging about his lifestyle.
But everyone else has an issue. Jayson Stark whines that it just isn't fair that poor, little baseball gets picked on while the track and football athletes get away scot free.
Well that's not true, the track athletes aren't getting subpeonaed because they are too busy serving suspensions. In the U.S. Track and Field world, an athlete doesn't even need absolute proof against them to be suspended for two years. Hell the U.S. Anti-Doping Agency did a number on Marion Jones without any sort of hearings, press conferences, investigations or anything. They just put her out in the public and made her deny allegations they didn't have any proof of. That's pretty brilliant.
Stark even goes as far to question Congress' motives [ESPN.com]
They may tell us they're removing clouds from a sport they love, and that they're saving our children from the evils of steroids. But isn't there a voice inside all of our heads that wonders if that's really what this is about?
Oooo (raises hand) me...me... I think the U.S. Government is doing this to put baseball in its place once again, especially the Union. They've given Selig, Fehr and their respective cronies plenty of time to solve the problem themselves. But they ignored the FBI reports in 1994 and the questions brought up during the Sosa/McGwire chase in 1998. Also they are doing this because despite whatever testing baseball has decided to ignore over the last 30 years, it's a known fact that steroids are ILLEGAL.
Here's what U.S. Represenive Cliff Stearns said to further knock home that point. [Miami Herald]
"Our elite athletic organizations, both professional and amateur, should establish uniform, world-class, drug-testing standards that are as consistent and robust as our criminal laws in this area."
Consitency across the board. It sounds nice but in case you didn't notice the difference between the Royals and the Yankees, baseball's always been against parity.
Wednesday, March 09, 2005
Any Volunteers???
No?? Well the government decides to try a different approach.

After politely asking several former and current MLB players to step forward and testify about steroid on Capitol Hill, U.S. Congress has decided to just demand some words from noted roider Jason Giambi and suspected juicer Sammy Sosa along with retired roider Mark McGwire, who's carefully constructed faux image couldn't get him out of this one.

"We hope subpoenas won't be necessary, but we are prepared to move forward with subpoenas [Wednesday] if we receive information that witnesses are not willing to appear voluntarily," David Marin, a spokesman for House Government Reform Committee chairman Rep. Tom Davis, said Tuesday.

It seems very simple. Either "volunteer" or we'll make you come and tell us the truth.

Do I agree with this approach? Absolutely not, the less government the better (and lbe honest Republicans, big government is the most bipartisan practice in D.C.), especially when half these Congressmen just want to be part of the group that eliminated roids from baseball.

However, as much as I disagree with the potential of a subpoenas, I have to chuckle at the fact that the union can't save their boys this time. Someone's getting sent out to pasture.
Oakland: Where ya at???

Oakland is definitely in the House..

Gotta love championship week because Oakland's (12-18) other finest got their ticket to Dayton (NCAA Opening Round) for next Tuesday with a shocking win over Oral Roberts (25-6). Rough loss for the dental school but hopefully the Golden Eagles will flash those pearly white teeth in the NIT.

Also congrats to the Rajin' Cajuns in Lafayette, Louisiana and UW-Milwaukee for earning spots in the NCAA's greatest spectacle.

As for Oakland's potential opponent for Tuesday's play-in game, Weber State (14-15) is a good possibility with a win in tonight's Big Sky finale.
Monday, March 07, 2005
The Morning Toast (Part 2): Blogger Ate My Homework
Yep, in a fit of technical rage, evil Blogger took my beautiful post away so here's a quick review.

Illinois Loses: Good game and a great run for the Illini, they probably should've won this game but they've gone about this season the right way. They don't look ahead, they play the games one at a time. Bruce Weber is doing a great job and I don't expect this team to come close to losing until the Elite Eight.

UNC Upends Duke: Another classic game between these two great rivals and a great rally by the Tar Heels to pull out the victory. Sean May was a monster and the main reason UNC won was because they never went away from their advantage inside. It was a great win for Carolina, who solidified their status as a 1 seed. Duke, almost definitely a 2 seed, had to like the way it is playing right now and the contributions from Lee Melchionni on offense.

Florida Downs Kentucky: The SEC stinks and neither one of these teams will probably make it out of the first weekend. Florida finally gets a win over a program that has owned them in the last four years, but neither team is very good.

Wake Edged N.C. State: And Chris Paul gets a game on the bench for a pop cock. Personally I would have suspended him for three, but there was already a precedent when Julius Hodge elbowed Steve Blake in the face. So it is what it is.

Sorry this post is so bad, I don't have time for the full monty...

However, the Ravens signed Samari Rolle, great signing and now the Ravens definitely have the best secondary in the league.
The Morning Toast (Part 1): Tiger 623, Phil 0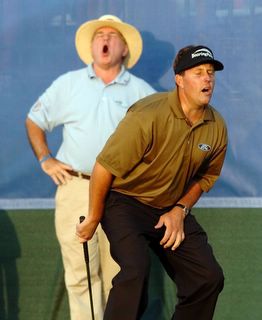 Once again Tiger hits Phil where it hurts.

Death, Taxes, Tiger beats Phil. It would be so exciting if it wasn't so anti-climatic. Even when Tiger blinked, Phil blinked four times, missing all kinds of putts inside of 10 feet.

So in search of Mickelson apologist columns -- you know the ones who say "well he lost, but" -- I've found a couple (hell I didn't have to look past ESPN.com).

Golf World's Ron Sirak writes the following:

As disturbing as it was that the key stroke of the entire tournament could have been the five-foot par miss Mickelson had on No. 16, the fact is that there was more room for joy than sorrow in the Lefty camp. He did hang in there, and he did almost chip in for birdie on the final hole and force a playoff.

Yay. He hung in there. He almost won this time. If it wasn't for that five-foot miss...Doesn't it sound like the same song and dance every time these two get together? It's almost like some of us media folk are trying to create something that really isn't there (SURPRISE). Despite the two golfers being almost equal in talent, heck Mickelson might even be a little more talented from a raw standpoint, Woods walks away with all of the wins. It's not a rivalry, it's a beatdown.

Mickelson's win over the Masters was a great moment. Six of Tiger's eight majors were fairly dull because he was too busy lapping the field to worry about the drama of a final hole. For every Bob May and Sergio Garcia, there was a 15-stroke win at Pebble Beach and a 12-stroke win at Augusta and even a 10-stroke win at St. Andrews.

More importantly, Tiger hates Mickelson. I'm surprised he didn't wear a different shirt during the Ryder Cup. He hates Mickelson because he sees a guy that could be the best ever but was always satisfied with Top 5 so he'd have enough of a paycheck to comfortly hit the buffet and the blackjack tables. Every time Mickelson is within his grasp, Tiger wants to beat him so badly he can't stand it. Yesterday's final round started with Mickelson leading by 2, he might as well have been trailing by 5.

And as we all knew, Tiger was going to chase Phil down, pounce on him and kill him. In the golf jungle, Woods is still the king.



Red Sox vs. Yankees: Spring Edition



No interest. Wake me up after the All-Star break and if you spend 50+ on a ticket for this game, you're an idiot.

NFL Moves and Shakes

For as much grief as the Bill Parcells-Jerry Jones relationship gets, it's obvious that these two guys need each other. Jones wanted to crack the checkbook last year but Parcells advised him against too many bad free-agent signing. Knowing that he couldn't stop his boss a second time, Parcells got his man in Bledsoe and gave Jones the reins to sign Jason Ferguson and Anthony Henry to bolster their defense. Now Dallas is definitely in the wild-card hunt but still not good enough to challenge Philadelphia IMO.

The Jets and Redskins finally made the long-awaited trade, swapping receivers Santana Moss and Laveraneus Coles. It was a good trade on both ends....sort of. Moss gives the Redskins a gamebreaker in the slot and on the punt returns. Coles gives the Jets a universal receiver, a guy who can play the possession game as well as the deep game. The bad for the Redskins is that they lost the big time receiver and still suffer the cap issues. The Jets still need to replace the losses of Ferguson, LaMont Jordan and Kareem McKenzie.

Arizona signed Kurt Warner to a one-year deal. Remember when Kurt Warner was good? Not he's just walking from one beating to another. My feeling is he'll start the first five games before the accumulation of punishment turns out to be too much for him.

That's it for now, Part 2 will obviously be college basketball related.