Sporting Fools
Sporting Fools
Sporting Fools
The frequent and occasional humorous musings behind two of the World's greatest underappreciated sports minds.
Wednesday, April 06, 2005
My Masters Meal..
Last night the defending Masters champion Phil Mickelson had lobster ravioli, garlic bread and ceasar salad for the champions dinner.

My meal would be a favorite for the geographical area:

Country Fried Steak w/white sausage gravy
Skin-on mashed potatoes
Long tip green beans

Chocolate pudding cake with Vanilla Ice Cream...

My goal would obviously be to get Mickelson gorging early and not in condition to play the 72 holes.

What's you Masters Meal??
Monday, April 04, 2005
Opening Day Blues...
I was so ready to enjoy developing this man crush on Carlos Beltran after his GOD-LIKE day at the plate and than Braden (Don't call me Armando) Looper ruins it for me. A**hole. And Pedro was beyond a monster.

On to tonight's game. Go Illinois...

For some odd reason I'm getting flashbacks of the Duke-UConn game of 1999 [link]...There was Duke, vastly talented (Corey Maggette was the third option off the bench), won 32 in a row, crazy inside-out game.

But they were lazy, no one outside of Battier played defense with any sort of consistency, they assumed they were so much better than they could play at 65% of their skill level and win easily, most of the time they were right.

Than I look at Illinois...and I think to myself, does Dee Brown = Richard Hamilton...Sorta kinda, they are both winners...As a matter of fact here's what Coach K said about Hamilton.

"I think Hamilton expects to put points up on the board every night," Duke coach Mike Krzyzewski said. "He expects to win."

Carolina has played teams a notch below their level thus far and they've been lazy...Villanova outplayed them, Wisconsin scored a program-high 82 points against them. If you look at the easy road they've taken there's no reason why they shouldn't have won every game by 10.

Illinois on the other hand works their butts off at every level. Offense, defense, every thing is about finishing the job. Deron Williams is a defensive STOPPER. He shuts down his guy and he's going to shut down McCants or Felton tonight.

I don't know who has the coaching edge, both guys are interesting. UNC is a typical Roy Williams team, talented, offensively sound, very athletic, lazy on defense. I haven't gotten a hold of what Bruce Weber's teams are like, but this year they are keen passers and strong on the perimeter.

In the end I'm taking it back six year, Illinois 77, UNC 74 and a shout out to the "weak" Big Ten that only had 3 teams in the Elite Eight and two in the Final Four.

In other news, 38 minor leaguers were suspended for violating the drug program [ESPN]. Boy another great coincidence...*Gammons mode* Boy this proves this baseball testing program really works...*Gammons mode off*...

Shawn Kemp is apparently a former NBA star now. Personally I thought he was an overweight has been. Go figure. Anyway he got popped with the hat trick -- coke, pot and a semi-automatic [ESPN]. I hope he wasn't dealing, but it's got to be tough to feed a family of 71.

Sure Juventus-Liverpool doesn't excite many fans, but if you needed a reason to watch some UEFA cup, this article gives you a pretty good excuse [London Times]. It should be intense.
GUILTY!!!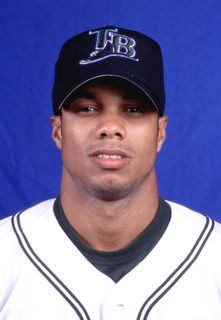 You've been a bad, bad boy.

And you know baseball was going to go after those big names from the large markets right away didn't you? I can safely say from being around Tigers camp (since they train where I work) that I would've NEVER suspected Sanchez because he has no power, can't play defense and is pretty tiny.

Of course he denies it and honestly, I don't know that I don't believe him. Granted he's not the brightest bulb in the light fixture, but doesn't this all seem a little too convienent? Even ESPN baseball honk Buster Olney seeps with sarcasm in random piece [link].

From baseball's perspective, Sanchez is the perfect bust. He is a fringe major-leaguer, already dumped by the Milwaukee Brewers

and the Detroit Tigers

and a part of Tampa Bay's projected lineup only because Danny Bautista

retired. The Devil Rays' ticket sales are not suddenly going to be impacted by this suspension, as the Cardinals' might have been if Mark McGwire

had been suspended in 1998. Major League Baseball can make a point without damaging one of its franchises.

This is why, as a Mets fan, I'm not worried about these tests. You think baseball is going to go after a large-market team with a strong fan base? And does anyone question the random route baseball is using to test? While the Sanchez story won't go very far, this report from a Chicago daily is more interesting [link].

Derek Jeter and Hideki Matsui were among a handful of New York Yankees players randomly selected for steroid tests by Major League Baseball, the New York Post reported Friday.





Jason Giambi and Gary Sheffield, who testified in the BALCO grand jury hearings, were not among those tested by members of baseball's drug testing program Thursday at the team's spring training complex in Tampa, Fla., the newspaper reported.





The San Francisco Chronicle reported in December that Giambi admitted before the grand jury that he had used steroids.





In addition to Jeter and Matsui, second baseman Tony Womack, outfielder Bubba Crosby and relievers Paul Quantrill, Bret Prinz and Jason Anderson were also required to provide urine samples. Pitcher Mike Mussina was also on the list of selected players, but had been given the day off by manager Joe Torre.




Bubba Crosby? Bret Prinz? You've GOT to be kidding me? I'm shocked Tanyon Sturtze didn't make the cut. And baseball wonders why its so low on credibility right now. How does Sheffield and Giambi just happen to miss the first set of testing? And of course the players and coaches are just eating this up, almost bragging about how this proves that the tests work. [Newsday]

Yankees manager Joe Torre expressed less sympathy for Sanchez. Said Torre: "That's why the players wanted to make sure we do this. They wanted to get the fans' trust back. I'm sorry that people continue to think they won't get caught."

Right now baseball needs to find someone outside of their realm to do the testing. This random thing isn't going to change. Everyone should get tested at the same time, this sport doesn't have room to be random and start popping off fringe utility guys. Eventually the fans, at least the cynical ones like me, are going to want something with some teeth in it. If the sport is clean, show me that the sport is clean.