Sporting Fools
Sporting Fools
Sporting Fools
The frequent and occasional humorous musings behind two of the World's greatest underappreciated sports minds.
Wednesday, July 20, 2005
Fantasy QBs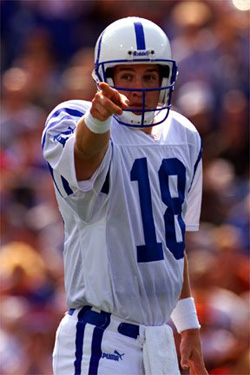 Believe it or not we're only about a month away from fantasy football drafts so I'm going to take a whirl starting with the quarterbacks.

Top 5

1) Peyton Manning: Kind of a no brainer here. Manning will probably go no lower than third in any draft and first in most. Manning's touchdown total last season (49) is about 20 over his career average, but there's no reason why he can't throw for around 35 scores in 2003.

2) Daunte Culpepper: It's kind of a toss-up between Culpepper and Donovan McNabb here, most would even prefer McNabb since Culpepper's top target, Randy Moss, was traded away. Without Moss I don't expect Culpepper to match his 39 touchdowns of 2004 but he will be used at the goalline and he will run for more than the two scores he had last year.

3) Donovan McNabb: Believe it or not but Terrell Owens is very important to McNabb's production. His 31 touchdowns last year were almost as many as his totals in 2002 and 2003 combined. With T.O. in the fold, 30 touchdowns is again a possibility. But remember he's got the Madden jinx working against him.

4) Drew Brees: A bit of a surprise at four because many people think Brees' 2004 season was an abomination. Not me and it's because of one reason -- Antonio Gates. For the first time Brees had a sure-handed safety valve who was money inside the red zone. I'm willing to take a second chances on Brees.

5) Brett Farve: Barely over Jake Delhomme, although I can safely say that if Favre and Javon Walker keep sniping at each other it might be a long season. Otherwise I'll take the 4,000 yards and 30 touchdowns.


Underrated

Jake Delhomme: Almost 4,000 yards and 29 touchdowns for a Panthers team ravaged by injuries in 2004.

David Carr: Should continue to get better with an improved offensive line.

Chad Pennington: With a better receiving corps and a healthy shoulder, he should revert back to 2002 form (22 TDs, six interceptions)


Overrated

Jake Plummer: High yardage, high interception total. Fine QB for larger leagues, but anything 10 teams and under and I'd only use as a backup.

Ben Roethlisberger: He's going to go higher than he should in most drafts because of the Steelers' success last year. But he was very mediocre in his last ten games of 2004 and even worse against the league's better defenses.

Michael Vick: I actually like Mr. Mexico as a QB, he gets the job done in a non-traditional form. That being said he's going to go higher than he should, too many flaws in his passing.


Three to Watch

Kerry Collins: The receiving corps in Oakland is beyond stacked. Ron Curry is a No. 2 receiver anywhere in the league but barely cracks the second team in Oakland. I like Collins for over 30 touchdowns.

Tom Brady: Oddly enough Brady is a better NFL QB than a fantasy league QB. Brady usually sticks around his 26-touchdown, 13-INT average, which is good enough in a larger league.

Marc Bulger: I don't believe he'll ever post the numbers that Kurt Warner did in the office. But he will throw for 23-24 touchdowns and almost 4,000 yards.