Sporting Fools
Sporting Fools
Sporting Fools
The frequent and occasional humorous musings behind two of the World's greatest underappreciated sports minds.
Tuesday, June 07, 2005
When Operative Strikes..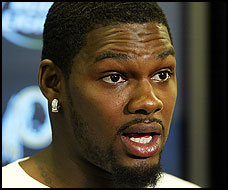 Taylor Must Plead His Case.


Well I was able to get in touch with my operative concerning the Sean Taylor arrest and now his excuse from Redskins training camp (which is what he wanted all alone).

The following is completely unedited.

nitty told me that holmes was followed by some bammas from parine (sp?)...by richmond heights, south miami. they waited till he got in the crib, and then stole some fancy truck i never heard of. he went to the dudes and demanded his ride. they said he had to payfor it!!!!! playing him real 'hoe-style'.

Not sure when he did his gun chumping, but apparently these cats shot up his house, and destroyed a hummer of his. sounds to me that youngin is frontin, and the bammas he is running with are frontin too. if he was rolling with his real gorillas, dudes wouldn't be trying to play him so hard.

Also, he aint been working out. he's been chillin. aint call coach andy gibbs either. sounds to me, like some of the 'stuff' may be involved here. more than just booze. young cats dont say screw the world of booze, as they will still get up and work out and what not. usually, that type of behavior is after years of punishing the bottles of sunshine. feel me?

youngin is lunchin, is playing himself like a bamma, and everybody knows it. he needs to tighten up.

south miami tuffy huh....hahahahahah


So there you have it. He's lunchin', frontin' and he need to tighten up, especially if he serves any jail time.