Sporting Fools
Sporting Fools
Sporting Fools
The frequent and occasional humorous musings behind two of the World's greatest underappreciated sports minds.
Monday, April 04, 2005
GUILTY!!!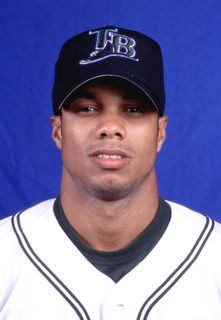 You've been a bad, bad boy.

And you know baseball was going to go after those big names from the large markets right away didn't you? I can safely say from being around Tigers camp (since they train where I work) that I would've NEVER suspected Sanchez because he has no power, can't play defense and is pretty tiny.

Of course he denies it and honestly, I don't know that I don't believe him. Granted he's not the brightest bulb in the light fixture, but doesn't this all seem a little too convienent? Even ESPN baseball honk Buster Olney seeps with sarcasm in random piece [link].

From baseball's perspective, Sanchez is the perfect bust. He is a fringe major-leaguer, already dumped by the Milwaukee Brewers

and the Detroit Tigers

and a part of Tampa Bay's projected lineup only because Danny Bautista

retired. The Devil Rays' ticket sales are not suddenly going to be impacted by this suspension, as the Cardinals' might have been if Mark McGwire

had been suspended in 1998. Major League Baseball can make a point without damaging one of its franchises.

This is why, as a Mets fan, I'm not worried about these tests. You think baseball is going to go after a large-market team with a strong fan base? And does anyone question the random route baseball is using to test? While the Sanchez story won't go very far, this report from a Chicago daily is more interesting [link].

Derek Jeter and Hideki Matsui were among a handful of New York Yankees players randomly selected for steroid tests by Major League Baseball, the New York Post reported Friday.





Jason Giambi and Gary Sheffield, who testified in the BALCO grand jury hearings, were not among those tested by members of baseball's drug testing program Thursday at the team's spring training complex in Tampa, Fla., the newspaper reported.





The San Francisco Chronicle reported in December that Giambi admitted before the grand jury that he had used steroids.





In addition to Jeter and Matsui, second baseman Tony Womack, outfielder Bubba Crosby and relievers Paul Quantrill, Bret Prinz and Jason Anderson were also required to provide urine samples. Pitcher Mike Mussina was also on the list of selected players, but had been given the day off by manager Joe Torre.




Bubba Crosby? Bret Prinz? You've GOT to be kidding me? I'm shocked Tanyon Sturtze didn't make the cut. And baseball wonders why its so low on credibility right now. How does Sheffield and Giambi just happen to miss the first set of testing? And of course the players and coaches are just eating this up, almost bragging about how this proves that the tests work. [Newsday]

Yankees manager Joe Torre expressed less sympathy for Sanchez. Said Torre: "That's why the players wanted to make sure we do this. They wanted to get the fans' trust back. I'm sorry that people continue to think they won't get caught."

Right now baseball needs to find someone outside of their realm to do the testing. This random thing isn't going to change. Everyone should get tested at the same time, this sport doesn't have room to be random and start popping off fringe utility guys. Eventually the fans, at least the cynical ones like me, are going to want something with some teeth in it. If the sport is clean, show me that the sport is clean.