Sporting Fools
Sporting Fools
Sporting Fools
The frequent and occasional humorous musings behind two of the World's greatest underappreciated sports minds.
Monday, March 07, 2005
The Morning Toast (Part 1): Tiger 623, Phil 0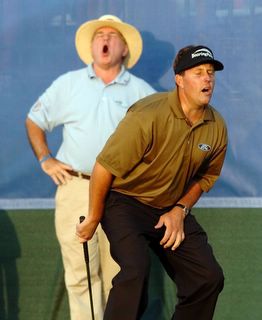 Once again Tiger hits Phil where it hurts.

Death, Taxes, Tiger beats Phil. It would be so exciting if it wasn't so anti-climatic. Even when Tiger blinked, Phil blinked four times, missing all kinds of putts inside of 10 feet.

So in search of Mickelson apologist columns -- you know the ones who say "well he lost, but" -- I've found a couple (hell I didn't have to look past ESPN.com).

Golf World's Ron Sirak writes the following:

As disturbing as it was that the key stroke of the entire tournament could have been the five-foot par miss Mickelson had on No. 16, the fact is that there was more room for joy than sorrow in the Lefty camp. He did hang in there, and he did almost chip in for birdie on the final hole and force a playoff.

Yay. He hung in there. He almost won this time. If it wasn't for that five-foot miss...Doesn't it sound like the same song and dance every time these two get together? It's almost like some of us media folk are trying to create something that really isn't there (SURPRISE). Despite the two golfers being almost equal in talent, heck Mickelson might even be a little more talented from a raw standpoint, Woods walks away with all of the wins. It's not a rivalry, it's a beatdown.

Mickelson's win over the Masters was a great moment. Six of Tiger's eight majors were fairly dull because he was too busy lapping the field to worry about the drama of a final hole. For every Bob May and Sergio Garcia, there was a 15-stroke win at Pebble Beach and a 12-stroke win at Augusta and even a 10-stroke win at St. Andrews.

More importantly, Tiger hates Mickelson. I'm surprised he didn't wear a different shirt during the Ryder Cup. He hates Mickelson because he sees a guy that could be the best ever but was always satisfied with Top 5 so he'd have enough of a paycheck to comfortly hit the buffet and the blackjack tables. Every time Mickelson is within his grasp, Tiger wants to beat him so badly he can't stand it. Yesterday's final round started with Mickelson leading by 2, he might as well have been trailing by 5.

And as we all knew, Tiger was going to chase Phil down, pounce on him and kill him. In the golf jungle, Woods is still the king.



Red Sox vs. Yankees: Spring Edition



No interest. Wake me up after the All-Star break and if you spend 50+ on a ticket for this game, you're an idiot.

NFL Moves and Shakes

For as much grief as the Bill Parcells-Jerry Jones relationship gets, it's obvious that these two guys need each other. Jones wanted to crack the checkbook last year but Parcells advised him against too many bad free-agent signing. Knowing that he couldn't stop his boss a second time, Parcells got his man in Bledsoe and gave Jones the reins to sign Jason Ferguson and Anthony Henry to bolster their defense. Now Dallas is definitely in the wild-card hunt but still not good enough to challenge Philadelphia IMO.

The Jets and Redskins finally made the long-awaited trade, swapping receivers Santana Moss and Laveraneus Coles. It was a good trade on both ends....sort of. Moss gives the Redskins a gamebreaker in the slot and on the punt returns. Coles gives the Jets a universal receiver, a guy who can play the possession game as well as the deep game. The bad for the Redskins is that they lost the big time receiver and still suffer the cap issues. The Jets still need to replace the losses of Ferguson, LaMont Jordan and Kareem McKenzie.

Arizona signed Kurt Warner to a one-year deal. Remember when Kurt Warner was good? Not he's just walking from one beating to another. My feeling is he'll start the first five games before the accumulation of punishment turns out to be too much for him.

That's it for now, Part 2 will obviously be college basketball related.