Sporting Fools
Sporting Fools
Sporting Fools
The frequent and occasional humorous musings behind two of the World's greatest underappreciated sports minds.
Thursday, January 20, 2005
Bracketology 201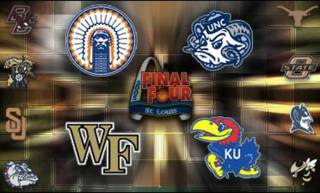 Do you agree?

I understand it's just January but out of sheer boredom ESPN has decided to name the final four and then simulate it. Now I have no clue who actually runs these games (does anyone) but I have my own copy of College Hoops 2K5 and one of these days, I'll simulate it myself.

As for my final four...I like Wake Forest and Kansas....Illinois gets upset by Louisville in the Elite Eight (showing some love to the mid majors) and North Carolina loses in OT to Syracuse in the other regional final (Errr...Southeast or Charlotte or Beaumont, Texas....whatever they want to call the regions this year).

Discuss amongst yourselves and tolerate Blair's attempt to convince us that Marquette will be in the mix.